How do I get there from the airport?
Getting to Comfort Lodge from the new airport couldn't be simpler.
Option 1 : From the airport, take the MTR Airport Express Train to Kowloon Station. Trains leave every 10 minutes and the fare is HK$90 (US$11.5) for one way, return ticket at HK$160 (US$20.5). From Kowloon Station, take a taxi which should cost around HK$20 (US$2.60) plus luggage cost (HK$5/ppc).
Option 2 : From the airport, take the airbus No.A21, fare HK$33 (US$4.3), alight at the 11th stop (Jordan MTR Station / Prudential Hotel), walk across the shopping mall. Comfort Lodge is located right behind that.
NOTE :
..............
Please print out this business card with our address in English and Chinese on it. If you show it to your taxi driver he will bring you straight to our door.

(Please also see other page for the streets map)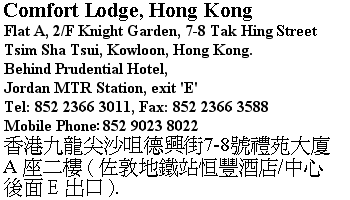 If you have any question, please feel free to contact our expert about travelling in Hong Kong.
thomas@comfortlodge.com
Shopping / Airlines / Attraction / More About...
Hong Kong A-Z
<!Menu E1>
Rooms / Location / Routes / Daily Rates / Monthly Rates
FAQ / Reservations / Payments / China Trips / Links
Students / Jobs / Home.

Copyright Comfort Lodge, Hong Kong 1998
7-8 Tak Hing Street, Knight Garden Block A, 2/F, Jordan, Kowloon, Hong Kong
Tel: +852 2314 8068, +852 2970 0888, Fax: +852 2970 0333.
Email: info@comfortlodge.com ; thomastang@ctimail.com
Home Page: http://comfortlodge.com